The Moscow Times: 18 Years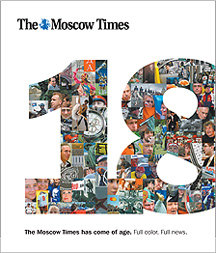 The Moscow Times newspaper, the first project of Independent Media Sanoma Magazines, turned 18 on October 2, 2010.
Over its eighteen years in existence, The Moscow Times newspaper has won the respect of both foreign and Russian-speaking audiences by providing readers with an independent review of political, economic, social and cultural events in Russia.
Key events in the history of The Moscow Times:
1992: first issue of The Moscow Times released;
1997: web site www.moscowtimes.ru created;
1998: began holding conferences and business breakfasts;
2003-2004: Jobs & Careers, Real Estate Catalogue and Real Estate Quarterly inserts first published;
2005: first publication of Moscow Guide listing cultural and recreational attractions in Moscow, release of first annual Moscow Dining Guide;
2006: The Moscow Times – International Herald Tribune alliance formed;
2009: launch of unified English-language news portal about Russia www.themoscowtimes.com;
2010: The Moscow Times begins publishing in color, launch of Travel Guide and Bar Guide projects.