New Issue of PwCampus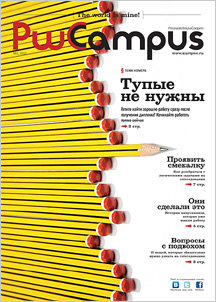 Custom Publishing presents this year's second issue of the student newspaper PwCampus, produced for the PricewaterhouseCoopers company.
The cover story: Do you want to land a good job right after graduation? Start working right now.
Also in this issue:
Stories of past graduates who found jobs;
Books that influenced Bill Gates and Yevgeny Chichvarkin;
Ten questions you need to ask during a job interview;
Video lectures from the world's best universities;
How to deal with logic and math problems during an interview.
The materials are designed for graduates and upperclassmen at the leading Moscow universities: Moscow State University, Moscow Institute of Physics and Technology, the Higher School of Economics, the Financial Academy, the G.V. Plekhanov Russian Economics University and others. The newspaper contains original illustrations and is written in colorful and understandable language.