Mamas&Papas: the Call of Autumn!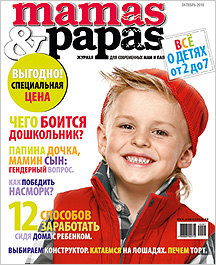 In the October issue of Mamas&Papas, readers will learn about the different psychological types of moms, the history of the relationship between teachers and their wards, everything our children fear and an interesting story about traveling with a child to Prague – the city of craftsmen.
For young fashion hounds, the magazine presents the main autumn trends in rubber boots and umbrellas. To make your children's leisure time more interesting, Mamas&Papas offers a survey of workshops for felting and equestrian sports.
Also in this issue:
Getting Acquainted: an interview with sports commentator Viktor Gusev;
Method: religious education;
Expertise: photo frames;
Health: beating the common cold;
The October issue went on sale September 21.
Mamas&Papas is happy to inform its readers that the magazine will be discounted significantly from October through December 2010.