Cosmopolitan Psychology: Favorite Magazine has New Name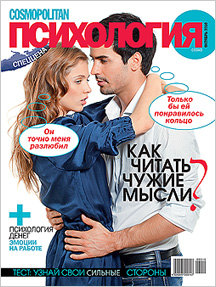 Changes have been made to the Cosmopolitan family of publications. In October, Cosmo Magic comes out with a new name – Cosmopolitan Psychology. This is a magazine for those who love to ask questions and are not afraid to hear the answers. The word "psychology" means that these questions concern inner peace, personal lives and careers. And because it belongs to the Cosmopolitan family, the articles are always light in tone and practical.
The magazine is aimed at girls between 25 and 30 years of age who are either in a relationship or looking for love, working and actively interested in life.
Following the guiding principle of the magazine, most articles rely on scientific evidence and are based on comments of famous psychologists, therapists and business coaches. Cosmopolitan Psychology also includes stories of ordinary people who overcome difficult circumstances and translate their dreams into reality.
The magazine makes searching for information easy. Section and column headings are as simple as possible: Relationships, Career, Instruction, Pleasure. A separate collection of tests is found at the end of the issue and the cover theme is reflected in two major articles.
The release of Cosmopolitan Psychology is accompanied by an advertising campaign in the Moscow metro, in colleges and universities and in throughout the Il Patio restaurant chain.