Mamas&Papas: Goodbye to Summer!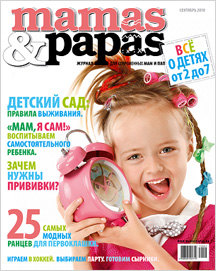 The summer has ended, and along with it unlimited quantities of ice cream, kids swimming until they catch a chill and their parents yell out, "Come out of there, I tell you!," mosquitoes and other charms of the easy life, and active play in the fresh air from morning until evening, after which even the most irrepressible children fall asleep the moment their heads hit the pillow. In the September issue readers will learn how to help their child adapt to kindergarten as well as how to choose the right desk and backpack. For those who want to organize children's entertainment and guide their bubbling energy along constructive channels, Mamas&Papas offers a review of drama workshops and hockey groups for children.
The new issue also includes:
Acquaintances: interview with Nona Grishayeva;
Education: mixed families. Mama – Russian, Papa – foreigner.
Health: everything you need to know about vaccinations.
The insert to Mamas&Papas is dedicated to the rules of the road. We take a walk around town and learn the rules of roadside behavior, master the operation of stoplights and draw a locomotive.
The September issue goes on sale August 24.