The Moscow Times Investigates Translation Difficulties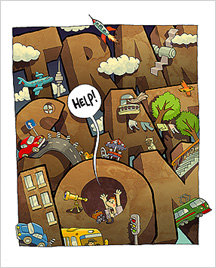 Many foreigners come to Russia, but Moscow isn't quite ready for them. Every day thousands of expats and students slog their ways through the great Russian language simply to get to work, study or home, to order dinner, to buy food or clothes… There are certainly other situations concerning language barriers.
The Moscow Times asks its readers to relate funny, troublesome and uncomfortable translation difficulties. If you noticed a strange sign, confronted incomprehension in an unexpected situation, got lost, didn't receive help because you didn't speak Russian… if you were off with a bargain or read a funny translation… if you learn Russian and read books in original – you are Lost in Translation. Write, take photographs and videos – and place your situations at the project page at www.themoscowtimes.com.