Vedomosti on Yandex.dengi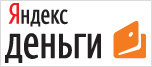 Vedomosti newspaper and the Vedomosti.ru website have introduced an additional way to pay for their services – through the Yandex.dengi system of electronic payments.
Now, by paying through Yandex.dengi, you can subscribe to the print version of Vedomosti and gain unlimited access to all of the material on the Vedomosti.ru site, including its unique electronic archive containing more than 230,000 publications dating from the time of its founding in 1999.
Yandex.dengi is an affordable and secure way to pay for goods and services via the Internet. Deposits to an electronic account and payments for goods and services take place in real time on the payment system's web site.