Interni Gathered Designers and Architects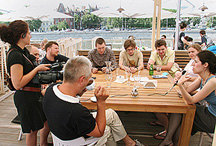 On Tuesday, July 6, Interni magazine gathered designers and architects on the Strelka terrace bar to discuss possible forms of development and cooperation. In attendance were Interni magazine publisher and Editor-in-Chief Oleg Dyachenko, editors Artyom Dezhurko and Alexander Ostrogorsky, architects Eduard Khaiman, Maxim Malein and Anton Kochurkin, designers Yekaterina Khramkova, Roman Krikheli, Yaroslav Rassadin and co-founder of the LimitedUnlimited design agency Maria Privalova.
The discussion touched on architectural and design journalism in Russia – which topics should be covered, how material should be presented, strategies for developing Interni magazine and involvement by those present as bloggers on the magazine site internirussa.ru.
A video and text report will appear on the Interni site, and this meeting will not be the last – so stay tuned for more information.