Collezioni Master Class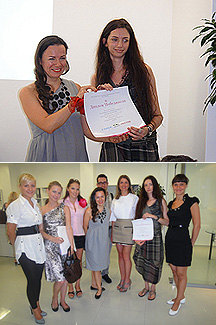 Collezioni Editor-in-Chief Irina Chernyak conducted a master class for young designers, as well as for people interested in obtaining a foreign education in the field of fashion. The master class was organized in cooperation with the Studylab educational company. Chernyak answered questions from the future fashion specialists and offered advice on how to build a career in that field.
The culmination of the evening was the presentation of a prize to the winning designer of the contest, titled "Children's Clothing as an Element of Play." Daria Melnikova, a third-year student at the Moscow Industrial Arts Institute, won a two-week course in clothing design at Naba University in Milan. More than 60 designers took part in the contest. The results will be published in the next issue of Collezioni magazine.