Business Workshop with Harvard Business Review – Russia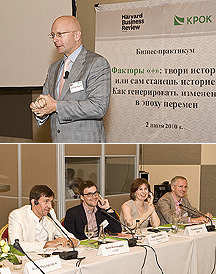 Harvard Business Review – Russia and the CROC company held a business workshop on July 2.
The meeting brought together the presidents and CEOs of such major companies as Akado, Evraz, Henderson – Russia, Coffeemania, Glance, SUEK, Promtorgbank, Eldorado, Unimilk, Gazprombank, Lenta, the Stockholm School of Economics in Russia, the New Shipping Company, RTR, the E4 Group, the Russian Television and Radio Broadcasting Network, Allianz ROSNO Asset Management, Kaskol Group, OTP Bank, the World Trade Center, Skolkovo, the Institute of Labor and Economic Analysis, Synergy, the IDGC of Centre, AFK System and others. Special guest, preacher of the new economy and management guru Jonas Ridderstrale spoke on the role of innovation in creating competitive advantages in today's world. His audience included workshop participants, Harvard Business Review – Russia Editor-in-Chief Dmitry Falaleyev and CROC company representatives. Ridderstrale also shared recent examples of successful business transformations taken from his personal experience working with the largest global corporations.