Summertimes: Only the Beginning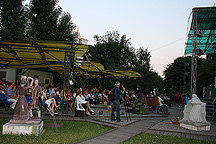 The opening of the outdoor Summertimes film festival was held on Thursday, July 1. The event was incredibly warm (thanks to the weather and the mood) and relaxed.
Attractive, happy and smiling film lovers gathered in Muzeon park long before the start of the film. They strolled, chatted and gave interviews to television reporters from Russia Today, Ren-TV, Music-TV and other correspondents who turned out to cover the first day of the festival. The hall was filled before the title sequence even ran, and at the conclusion, the audience gave rousing applause for the comedy "Tears of Happiness" – and, of course, for the festival organizers.
Every festival audience member also received a complimentary gift: The Moscow Times Travel Guide.
This week, the Summertimes program includes:
July 6 – "Naples, Naples, Naples," a documentary masterpiece by Abel Ferrara;
July 8 – "Me, Too," a subtle Spanish melodrama that has opened and won many film festivals.
Hugo Fragrances acted as partner to the festival.