Yes! Supports Extreme Sports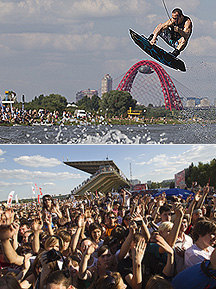 Yes! magazine took part in the Adrenaline Games for the fourth season in a row. This time the games were held in the Krylatskoye Sport Palace and brought together several thousand extreme sports enthusiasts.
The games were held in several categories: wakeboarding, inline skating, SKATE, flatland, dirt, skateboarding, mountain board and BMX. Broccoli Crew, Lame DJ's and RapMakers provided commentary to the athletes' tricks, spins and, of course, falls.
This year, each participant of the games received not only a hard-earned portion of the sizable prize fund, but a great tan as well. With four sheets of hardboard laid out in front of the main stage, the guys showed everyone how to cut loose on the dance floor. Closing out the games was Noize MC – a man who improvises his tracks as he goes, irresistibly creating ever new and original work that defies categorization.