Seminar for HR Directors from Harvard Business Review – Russia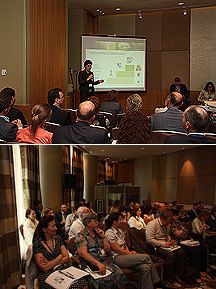 The Harvard Business Review – Russia magazine seminar for HR directors was held on June 3 at the Swissotel Krasnye Kholmy.
The meeting brought together HR directors of the largest Russian and foreign companies, including Sitronik, TNT, Sogaz, Sonofi Aventis, Mail.ru, MSK, Glance, Schneider Electric, MTS, 3M Russia, Svyaznoi, ARMZ, Absolut Groups, Rosinter, LG Electronics, Amrop, Rolf, Tele2, AstraZeneca, Stary Lekar, IBS, Technosila, Nidan, Novartis Farma, Coca-Cola, Yevrocement Group and others.
The theme of the seminar was "Corporate education: How to achieve efficiency." Harvard Business Review – Russia deputy Editor-in-Chief Dmitry Falaleyev and meeting participants discussed how to prepare an educational program in accordance with the needs of the company and listened to a report on educational formats and ways to use them effectively.