Collezioni at Festival Honoring Italy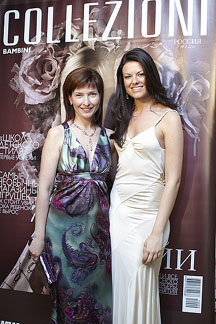 Collezioni acted as the exclusive media informational partner to a celebration honoring the Italian Republic organized by the Consulate General of Italy in St. Petersburg in cooperation with the Societa' Italia.
The event was held at the Borsalino restaurant in the Hotel Angleterre. Manufacturers participating in the festival, along with the Societa' Italia, organized a showing of children's clothing that included Spring/Summer 2010 and  Fall/Winter 2010/2011 collections from such world famous brands as Miss Blumarine, Ice Ice Iceberg, Parrot Ki67 and Regina. Italian stars and Miss Universe Silvia Ceccon were among the assembled guests. Serving as a backdrop for the festival was a photo exhibition titled "Cinema and the Kitchen" that previously enjoyed a very successful run in St. Petersburg and New Urengoy.
The holiday finished up with a drawing, the proceeds of which will go to the Grace and Children's Crisis Center foundations.