Vedomosti Held Small and Medium Business Development Forum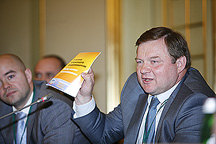 On May 18, Vedomosti newspaper held its second annual business forum "Small and Medium Business Development: government directives and their application in the regions" with the support of the all-Russia nongovernmental small and medium business organization Opora Rossiya (Reliance Russia).
Among the forums guests were First Deputy Prosecutor General Alexander Buksman, Federal Tax Service deputy head Sergei Shulgin, department head for the Small and Medium Business Development department of the Economic Development Ministry Andrei Sharov, Federal Anti-Monopoly Service assistant head Alexei Kozhevnikov, Finance Ministry Tax and Customs Duties Policy deputy director Sergei Razgulin, Consumer Affairs deputy head Oleg Mitrokhin, head of the working group of the governmental commission on economic development and integration Irina Makiyeva, as well as representatives of regional administrations, supporting funds, credit organizations and banks.
Delegates from many of Russia's regions took part in the Vedomosti newspaper forum, held during the national week of meetings and conferences devoted to small and medium business, traditionally held prior to Business Day on May 26. The Small and Medium Business Development forum is a direct dialogue between the business community and the authorities. For the second year, the event has received government support in the person of First Deputy Prime Minister Igor Shuvalov. The 2009 forum resulted in a host of proposals from the business community to the government, some of which have already been implemented.
Businesspeople gave their assessment of state measures aimed at supporting and developing business in 2009 – 2010, discussed problems encountered in their implementation and offered specific proposals for their improvement. Delegates said that problems still exist, despite a number of innovations that simplify life for business people. In particular, they complained of the insufficient available credit and of their inability to obtain financing for young companies and start-ups.