The Moscow Times Presents Book: Russia for the Advanced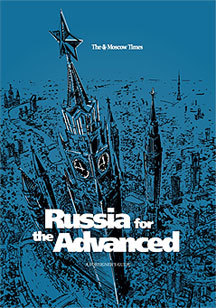 The Moscow Times newspaper released a sequel to Russia for Beginners, the acclaimed English-language bestseller about business in Russia. The new guidebook is titled Russia for the Advanced.
The book contains a collection of stories from foreign executives who write about how they managed to build and develop a successful business, despite the harsh reality of Russia and crisis conditions. In addition to describing the realities of Russian business, the authors discuss the relationship between Russian and foreigners, the peculiarities of the Russian mentality and share their formulas for understanding the "mysterious Russian soul."
The publication is illustrated with drawings made by the authors especially for The Moscow Times.
The book makes a wonderful gift for both foreign and Russian business partners.