"Rebound Banker" Took Silver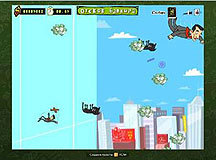 The Vedomosti newspaper game "Rebound Banker" was recognized at an annual competition for the best new creations in design and advertising organized by the Art Directors Club Russia, a professional community of Russian advertisers and designers. The names of the winners were announced on April 22. "Rebound Banker" was awarded the Silver medal in the "Media and Interactive – Games" category.
Launched on the Vedomosti.ru site in the summer of 2009, the entertaining business game has claimed thousands of minutes of work time from financial market participants and from a general business audience. The game was developed by the Ksan company.
At www.vedomosti.ru/game, visitors can play the ironic and addictive game "Rebound Banker" and learn stock-related slang at the same time.