Jubilee Edition of Na Rublevke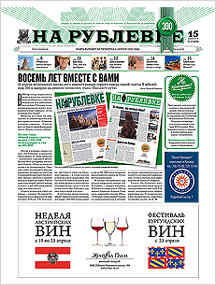 The 300th issue of Na Rublevke newspaper was released on April 15.
The Na Rublevke newspaper – that turned eight years old on April 11 – is a unique project in the Russian print market. The newspaper is read by residents of Moscow's prestigious Rublevo-Uspensky Shosse.  During these anniversary days, the publications' business partners have conveyed their congratulations and best wishes for the creative and financial success of the newspaper and its staff.
The newspaper grew from a circulation eight years ago of 234,000 copies annually to 561,000 copies per year now and has become a fixture of life on Rublevo-Uspensky Shosse. The Na Rublevke newspaper has always striven to organize discussion between Rublevka residents and to inspire positive and beneficial actions. And in the opinion of the editorial board, the newspaper has accomplished that.
Read the full history of Na Rublevke in the April 15 issue.