Vedomosti held Eurasian Transport and Logistics Forum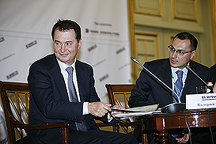 The "Eurasian Transport and Logistics Forum" was held on April 1 and brought together the best of all the Vedomosti conferences on this subject. Participants discussed the prospects of the Russian markets of air transportation, transport infrastructure and logistics, while trying to determine in which direction the railways are developing.
The discussions brought together chiefs of the Transportation Ministry, the Federal Railway Transport Agency, the Federal Antimonopoly Service, the State Duma, heads of regional administrations, major Russian and foreign companies, banks and companies partially owned by the state (Russian Railways, First Transport Company, Vneshekonombank and others).
The transport and logistics sector has suffered less than some other industries during the crisis. But Russian companies are increasingly at a disadvantage in the struggle for global transit routes and the existing infrastructure in the country does not meet the requirements of economic growth, the need to prepare properly for the Winter Olympics in Sochi and the pipeline in the Far East for the transit of oil products to China.
Forum members were unanimous in the view that huge investments are needed to solve the problems faced by these sectors, and that without a state-private partnership to address these issues, no solution is possible. The important thing now is to establish clear rules of the game that would define the basis for trust between businesses and government.
Only at the next "Eurasian Transport and Logistics Forum" to be held in spring 2011 will it be possible to assess whether this task has been achieved.