Men's Health Indo Boarding Cup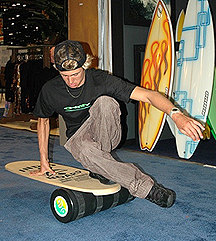 Men's Health opens the spring season Indo Boarding Cup. The three stages of competition will be held at venues designated by the magazine as part of the three main events of April and May:
The Moto Park exhibition at the Crocus Expo International Exhibition Center , April 2-4;
The International Festival of Physical Education and Sport at the Olympic Sports Stadium, April 16-18;
The Faces&Laces exhibition at the Vetoshny Complex (13-15 Vetoshny Pereulok), May 21-22.
What is indo boarding – office surfing, balance boarding or simply a new fun type of sport? Indo boarding is a personal trainer for balance, an exercise that enables you to develop a sense of equilibrium, hone your motor skills and gain greater coordination while staying in excellent shape. The main goal for amateurs is to stay on the board as long as possible without letting it touch the ground. Professionals can execute acrobatic tricks on the board such as spinning jumps and kick-tossing. Here is a list of just of few professional tricks:
Body varial – jump with a 180 degree rotation;
Hang ten – balancing on the edge of the indo board;
Cross step – walking freely on the indo board without losing balance;
Slide 90 – turning the indo board 90 degrees;
Fingerflip – jumping and flipping the board vertically with the fingers.
The overall winner in the Men's Health Indo Boarding Cup will be announced at the Faces&Laces exhibition on May 22 and is determined based on points accumulated during the three mandatory stages of the tournament.
The grand prize is a two-week tour in the Men's Health Adventure program. In July 2010 the winner will travel to one of the most popular surfing spots in the world, Bali Island , and take part in the Men's Health surf camp located there.
The second place winner will receive a Wii Fit Plus play station.
The third place winner will receive a new indo board set.
Amateurs are also welcome to try their luck at each stage of the Men's Health Indo Boarding Cup. The task is simple – keep your balance on the board for 30 seconds. Those who stay on will be awarded either a Men's Health T-shirt or a copy of Men's Health Adventure magazine.
The first stage will be held this Saturday, April 3, from 1 P.M. to 4 P.M. at the Men's Health stand at the Moto Park exhibition.