Yes! at Film Premiere of "Irony of Love"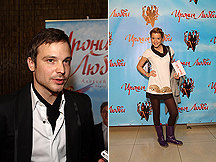 On March 22, the October movie theater held the premiere of the new romantic comedy "Irony of Love" starring Alexei Chadov and Asel Sagatova. Yes! acted as informational partner to the film's release: the publication's logo was displayed on  outdoor advertising and print materials, and the magazine's readers could attend premiere showings in five Russian cities in addition to Moscow.
Many guests came to the October cinema to see this love story between a shy loser and a dazzling beauty. Members of the music community took particular interest in this new comedy by the Interfest company. Among the musicians spotted at the premiere were Viktor Drobysh, Joseph Prigozhin, Igor Matvienko, Yuri Aksyuta, Nadia Ruchka, Angelica Agurbash, Pyotr Drang, Vlad Topalov and Arseny Borodin. Cinematographers also turned out to support their colleagues and congratulate them on the premiere. They included Yekaterina and Alexander Strizhenov, Sergei Sergei Ginzburg, Olesya Sudzilovskaya, Alexander Samoilenko, Vsevolod Shilovsky and Alexander Veledinsky.
"Treat the film as a vitamin that you need in a gray off-season. If you leave the room with a smile, then I will feel that our task has been accomplished," said the film's director, Alexander Chernyaev.
In only a few days, everyone will have a chance to get a dose of spring "vitamins." The joint Kazakh-Russian project "Irony of Love" will be released for distribution in Russia, Ukraine and Kazakhstan on March 25.