The Moscow Times in Color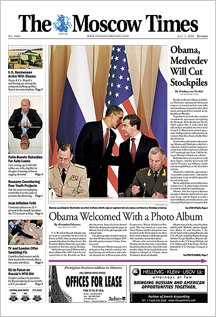 Beginning in April 2010 The Moscow Times newspaper will become a full color publication. This important event in the newspaper's 17-year history will attract additional readers, increase subscriber loyalty, enhance advertising possibilities and add an emotional element to the way its photos are perceived.
The event will be promoted with an advertising campaign in the print and electronic versions of The Moscow Times newspaper, in other print media and on the Internet. A photo exhibit timed to coincide with the event will be a unique continuation of the campaign. The best journalistic photos taken by The Moscow Times photographers will be on display at the Kofemania café on Bolshaya Nikitskaya street.
Programs promoting loyalty were also developed with the goal of encouraging existing readers and attracting new ones. New subscribers can take advantage of favorable subscription terms.