Major Russian Business Stories in Vedomosti Book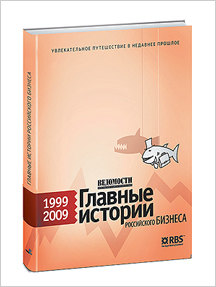 The book titled "The Main Stories of Russian Business: 1999 – 2009" has been released. The book brings together the most outstanding, important, telling and humorous stories covered by Vedomosti newspaper during the more than ten years of its existence. Written with the benefit of hindsight, the stories are short or long, ironic or serious depending on the circumstances – but always unbiased and objective.
Yeltsin's choice and Putin's choice, the first IKEA and the last Sadko-Arkada, the "equi-distancing" of oligarchs and business disputes, criminal kingpin Bykov's arrest and the prison death of honest lawyer Magnitsky, the Moscow blackout and the Sayano-Shushenskaya hydroelectric plant accident, MMM and Tri Kita, the Fabergé-Vekselberg eggs and the "Black Square" of Malevich-Potanin…
Examining the past, even the recent past, always reveals something interesting and half-forgotten, and makes it possible to study those events through a different point of view. The book helps readers bring order to disquieting memories so that each occupies its proper place, and together they form a complete picture.
The book is published as a gift album with a top-quality cover and excellent illustrations. The book belongs in the personal library of every person interested in the real Russia, and makes the perfect gift for business partners in 2010.
The book can be ordered on the Vedomosti web site or by telephone at +7 (495) 232 1753.