The Moscow Times Covers Olympic Games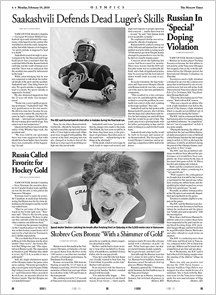 The Moscow Times newspaper has been giving its readers the latest news from the very opening of the 2010 Olympic Games in Vancouver. The newspaper's printed edition has been running highlights of the Winter Olympics.
From February 12 through 28, the newspaper will be giving regular updates regarding all of the victories and upsets, interesting news from Canada and expert predictions in the special Olympic Coverage section of its web site www.themoscowtimes.com.