Yes! Celebrated February 14 with its Readers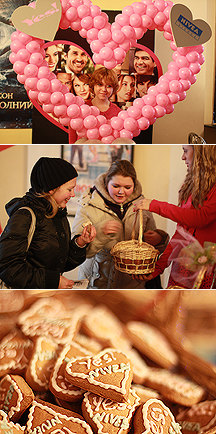 Yes! magazine long ago began its tradition of celebrating St. Valentine's Day with its readers. This year the magazine invited them on a date to the Karo Film Udarnik movie theater to watch the Disney company's most romantic film – When in Rome . More than 500 people attended the showing.
Guests were greeted by young ladies carrying baskets filled with magic heart-shaped cookies. They first had to make a wish before tasting the treats – and the wishes will surely come true. Another surprise awaited them inside the movie theater: some of the seats were marked with prize coupons that could be exchanged for valuable and romantic prizes and gifts.
Super prizes from event partner Nivea Visage Young were also given out through a lottery to those guests who had brought the Valentine from the February issue of Yes! and dropped it in a special box.
Many lovebird couples had their photos taken in front of a pink heart of balloons. The best photographs will end up in Yes! magazine.