Vedomosti Flies to Vancouver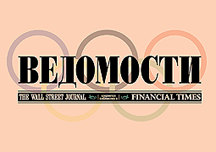 On February 12, 19 and 26 "Vedomosti – Friday" will run a special page devoted to the 2010 Winter Olympiad.
The "Vancouver Scene" column will give readers the schedule of broadcast times for sporting events in which Russian athletes are expected to take home medals. The entry for each program provides a short description of the particular event, information on the athletes and a forecast of their chances of winning.
Readers will also enjoy exclusive interviews with Russian athletes, reports from Vancouver, in-depth analysis and the "PhotoFacts" column, where the most memorable images from the Games will be accompanied by interesting facts, such as what materials were used to build the roof of the North America's largest stadium.
With "Friday" Vedomosti, you will never miss the most interesting news!
In addition, from February 11 to 23, Aeroflot will send 16 special flights to the Vancouver Olympiad for the Sochi Games organizational committee, the Olympic Committee and the Bosco company. Copies of Vedomosti will be distributed specially to passengers on board those flights. Each flight will also carry fresh copies of the newspaper to Vancouver.