Meet the Director and Teachers of the Yes! School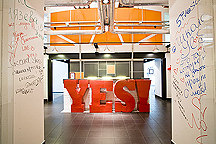 The Yes! School opened its doors on January 30. A huge number of guests gathered for the opening, but not everyone was able to attend.
For those who have not yet been able to gain a place within the walls of the school, but dream of immersing themselves in its creative atmosphere while getting acquainted with the director and teachers of the Yes! School, the magazine has prepared a video presentation and photo excursion of the school. Admission is free!