Yes! Stars Speaks Language of Love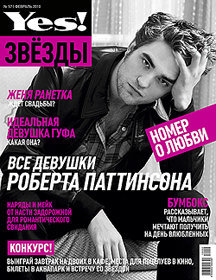 For the February issue, the editors of Yes! Stars decided to remind readers of the important role love plays in our lives and of the need to listen to our hearts! They received help from the isue's celebrity editors-in-chief, one of the most beautiful couples on television – Lera Kudryavtseva and Sergei Lazarev. The pair shares their tried-and-true secrets on how to guard your love and feelings when your private life is in the public eye.
Our female readers will enjoy an interview with Robert Patisson, who has successfully won the hearts of millions of young ladies through his role in the film Twilight. Patisson finally shares information about all of his former and current loves.
Red-headed Zhenya from the TV series Ranetki shares her history of romantic love, and popular Canadian singer Arvil Lavigne candidly talks about her break-up with boyfriend Deryck Whibley.
And more about love – the best films to watch on February 14, the most-desirable single men on the planet, useful advice, how to organize the ideal date, and much more!