Yes! Schoolgirls Strolled Yevropeisky Shopping Center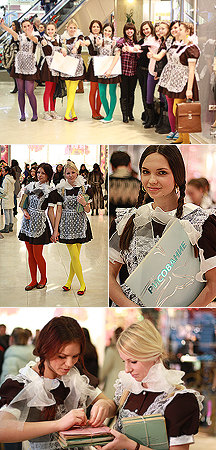 An unusual advertising stunt was performed on January 16 at the Yevropeisky shopping center. Seven young women dressed in school uniforms strolled for several hours from floor to floor in the shopping center. Occasionally shouting out, "Down with boring classes!" the ladies spoke with passersby and attracted attention to themselves.
Reactions were mixed: some people used cell phones to photograph the ladies from a safe distance, some asked to have their pictures taken with them, some asked to know the reason for the unusual behavior, some simply followed behind, but everyone without exception smiled to see the women wearing brown uniform dresses and large white ribbons on their heads.
The advertising action was part of the launch of the Yes! School and represents the first stage of the viral advertising that will later sweep online resources.