The Latest Vedomosti on Your Desktop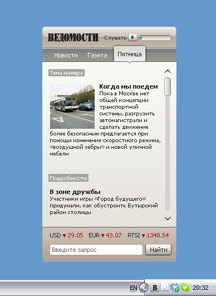 Vedomosti created a New Year's gift for its readers – an interactive wallpaper widget for Windows desktops. Every morning, the latest news will be waiting for you right on your desktop at absolutely no cost. The program is small – a state-of-the-art and convenient way to receive information for those who value their time.
The running news ticker is updated in real time throughout the day, making it unnecessary to open the Vedomosti site in order to learn the latest news. The new widget allows users not only to read articles, but also to listen to audio files of the latest voice podcasts containing a summary of the contents of the newspaper's latest issue. Users can also follow currency exchange rates and stock market indexes.