Yes! at Sunday Up Market Christmas Shopping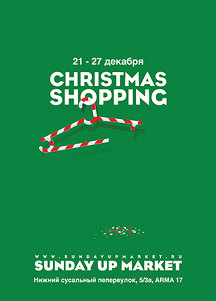 Everyone knows that it is common practice in Europe to set up Christmas fairs before the winter holidays. That fine tradition has not been lost on Russia. The Sunday Up Market in Moscow, first held in 2008, has now become even bigger. This time it will be held in the Christmas format from December 21 to 27 on the grounds of Arma 17, with Yes! magazine acting as informational sponsor of the event.
The Sunday Up Market is a true Christmas fair that includes a huge, 7-meter high Christmas tree made from felt, mulled wine, cinnamon and mandarins, designer Christmas trees, toys and ornaments, every possible type of original accessory and other niceties. Here you can find gifts for relatives and loved ones to fit any taste or budget: beads for mother, book covers for father, a warm cap for your boyfriend, perfumes for your girlfriend and gingersnap cookies for a coworker – and every item is handmade and one-of-a-kind. The market will end with a Christmas party at the same location, Arma 17.
Yes! is taking an active role in the event. On December 24 it will host a special master class, "Christmas gift wrapping from Yes!" and on Friday, Saturday and Sunday shoppers will be able to buy cool T-shirts from the Yes!-Magaz collection that boast exclusive prints from unique Yes! photo shoots.
Throughout the week, guests will be able to take a break from shopping to watch movies and collections of fashion video clips with commentary by stylists, listen to lectures by instructors from the British School of Design and participate in the "Green Price Tag" charitable campaign.
Sunday Up Market Christmas shopping is a unique urban event and designer market offering unusual and unique items at affordable prices.
Submerge yourself in the Christmas atmosphere with Yes!