The Moscow Times in Kindle Project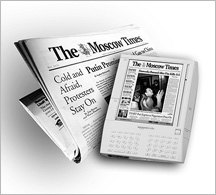 The Moscow Times has partnered with Kindle – a gadget that is popular in the West, but still relatively unfamiliar to Russians. The Moscow Times is the first newspaper in Russia and the CIS to collaborate with Amazon.com on its Kindle project.
Now the electronic version of The Moscow Times is accessible to Kindle owners at the Amazon.com web site along with such other world famous and reputable publications as the International Herald Tribune, The Daily Mail, The Daily Telegraph, Financial Times, Frankfurter Allgemeine, The Independent, The Irish Times, The New York Times,  The Times, and The Washington Post.