New Year's at RB.ru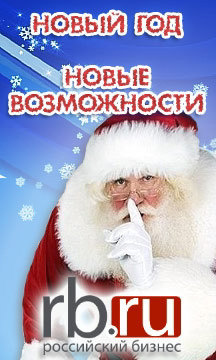 A New Year's special sporting the slogan "New Year – New Possibilities" kicked off on the RU.ru business portal in December.
The project includes material on the most significant events of 2009 – preliminary results for the outgoing year, a review of the most significant events and happenings. The business portal's analysts and specialists share their predictions for 2010 concerning various market segments and give their points of view regarding the direction in which all areas of the economy are expected to develop.
The pages of the special project bring together everything that a businessperson could need – not only for work, but for everyday living:
News and events connected with celebrating the New Year, New Year's vacation;
Careers at the end of the year – what can happen with them and how to earn extra income over the holiday;
2010 career and business horoscope, astrological projections created especially for RB.ru readers;
Amusing stories about corporate holiday celebrations at various companies, as told by RB.ru insiders;
Useful advice to help you have a fun and safe holiday in Russia or abroad;
Special New Year's offers from members of the RB.ru community of professionals and clients;
The most unusual and interesting corporate gifts that will be big hits in Russian offices this year;
A service for extending season's greetings to friends, colleagues and business partners that was created especially for RB.ru readers.