Yes! Supports "Cadet Blues"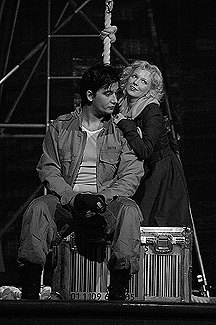 Yes! magazine served as informational sponsor to the Cadet Blues stage production based on the famous play Biloxi Blues by Neil Simon. First staged in 1985, it enjoys the unwavering appeal and unflagging appreciation of viewers to this day.
The idea for the show came from the actors in the popular CTC TV series Kremlin Cadets – who have already become pop youth idols. All of the main actors series' main actors star in this rendition of the army story. Viewers will also see Maria Kozhevnikova in an unaccustomed role.
Cadet Blues is a coming-of-age story about male friendship and first love. The production aims to show that the true side of human character emerges during life's critical moments, when the determining factor is not the strength of your muscles, but the power of your spirit, when a person could decide that it is better to die with integrity than to live at any cost – when you experience life at such a rapid pace that it takes your breath away.
As informational sponsor, the Yes! magazine logo is found on all signs advertising the show in universities and institutes, on promotional clips airing on Molodejj TV as well as on banners that were posted at the premier on December 12 at the Teatrium on Serpukhovka Street.