The Moscow Times Invites Children to Nutcracker Ice Show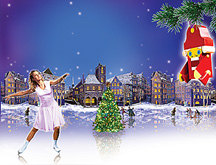 The Moscow Times newspaper has partnered with Stage Entertainment to invite the young participants of the Create Yourself program to watch the Nutcracker New Year's story on ice at the Luzhniki Olympic Complex. It is especially pleasant just before the New Year to give these children the opportunity to watch this beautiful and good-natured fairy tale about love and faithfulness.
Create Yourself is a charitable program from The Moscow Times newspaper. As part of the program, children learn something new such as how to draw and take photographs, attend various concerts and theatrical presentations and go on excursions.