A Very Funny Issue of Yes!-Stars Magazine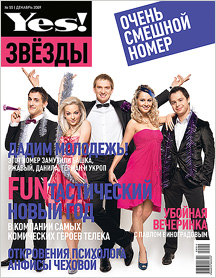 Every New Year's, glossy magazines try to outdo each other in making the coolest and most unforgettable end-of-the-year issue. Yes!-Stars accomplished the unbelievable: for the December issue, it gathered together the favorite heroes of various comedy programs to compose a recipe for making the holiday truly fun.
Today's brightest young comedians – Mikhail Bashkatov and Andrei Burkovsky, stars of the Dayosh Molodyozh comedy show – acted as editors-in-chief for the issue. Univer stars Maria Kozhevnikova and Vitaly Gogunsky had a serious talk about what's funny with Schastlivy Vmyesta star Dasha Sagalova. Uboinoi Nochi host Pavel Vinogradov composed a list of things to do before they ring in the New Year in order to start off on January 1 as a new and happier person. Comedy Club residents Andrei Averin and Zurab Matua told how to avoid common mistakes when telling jokes. And Anfis Chekhov had her sense of humor checked with a laugh detector.
This issue also includes celebrity advice on how to play Snegurochka and Dyed Moroz (the Snow Maiden and Santa Claus), how to choose an appropriate party theme, how to select clothing for the New Year, and more.