Bacardi&Martini: Moving Toward Success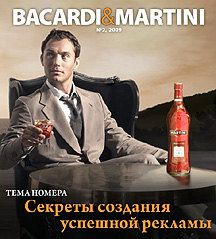 The Custom Publishing department of Independent Media Sanoma Magazines publishing house has finished the second issue of Bacardi&Martini, the electronic magazine for the Bacardi Rus company.
The issue includes:
Effective advertisments: past, present and future;
Cocktails from the maestro: Salvatore Calabrese reveals all the flavorful facets of Martini;
The most outstanding events of the season, reports from the best parties, results of professional contests and questions to topical questions.
The magazine can be viewed on the official Bacardi Rus web site: magazine.bmrussia.ru.