National Geographic Traveler Creates Excitement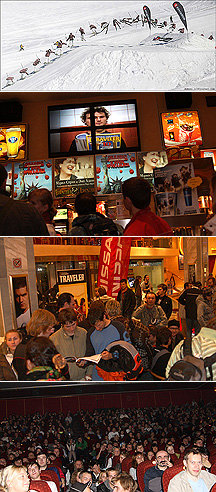 National Geographic Traveler magazine acted as informational partner to a film about freeriding with the intriguing title of Agiotage (Excitement). The Action Brothers company premier was held on October 8 at the Kodak Kinomir movie theater.
Agiotage was the first presentation of a Russian ski video on the big screen. The film crew traveled to various remarkable corners of the globe in search of snow and adventure, including Krasnaya Polyana, Mount Elbrus, Dombai, Bulgaria, India and France. The film crew and National Geographic Traveler visited every Russian snowboarding camp, conquering them by airplane, train, automobile and other means of transport – and covering more than 40,000 kilometers in the process. The premier created genuine excitement, drawing a record number of viewers for this type of project.
The magazine and its symbol were integrated directly into the film – the product placement looked natural because National Geographic Traveler constantly writes about active forms of leisure and sport, including freeride, in its regular Adventure column.
Viewers were given complimentary copies of National Geographic Traveler in the lobby before the screening. The publication's logo opened the premier showing. With the magazine's support, the film will soon be released on DVD.