Collezioni Opened School of Children's Style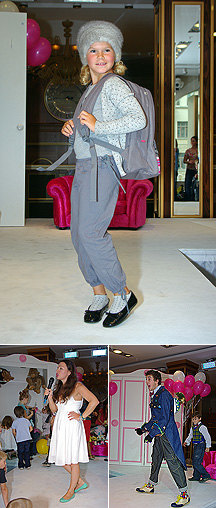 On the eve of the new school year, the Yakimanka children's gallery opened its doors to the School of Children's Style – a joint project between the gallery and Collezioni Bambini magazine. The first style lesson for the young fashionmongers held by the children's gallery and Collezioni magazine drew more than 500 people. The festive event had a happy, easygoing, warm family atmosphere.
Collezioni editor-in-chief Irina Chernyak conducted a master class to help parents and children prepare for the new school season by teaching them how to quickly select a fashionable and useful wardrobe for school children, and how to match school uniforms with their favorite blouses, shirts, tops, backpacks and flashy accessories. All interested boys and girls could become genuine stars of the podium and demonstrate, with their mamas and papas looking on, the best clothing combinations from the fall and winter collections of the leading brands as they strolled down the catwalk.
During fashion breaks, guests relaxed with cocktails and musical numbers from the popular musical, "Carlson, Who Lives on the Roof." The Academy of Children's Musicals conducted a dance lesson at the end of the festive event. Guests received excellent gifts from the magazine's business partners – a set of chocolates from Konfael, disks from Disney and clothing from Barbie.
Each new season offers another opportunity to express yourself and your individuality, and that means the School of Style will continue its work and will acquaint its young fans with fashion novelties throughout the year. The next lesson will be held in December 2009 prior to the New Year's holidays, when people dress in bright colors and prepare for balls, masquerades and New Year's parties. More information about the New Year's lesson can be obtained from Collezioni magazine and at the site www.yakimankagallery.ru.