Vedomosti in Every iPhone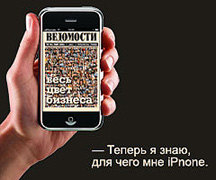 The Vedomosti business newspaper is releasing a free supplement for use with the iPhone. The supplement includes the latest news, recent issues of the newspaper along with free access to the Vedomosti archives, stock quotes, Central Bank rates, the prices of metals, oil, real estate and other market data, information on different companies and a running tickertape of corporate news.
Users can hear the recent Vedomosti issue directly from their cell phones under the Podcast section, or view up-to-the-minute video clips under the Video section.
Users will have access to recent issues and archival material not only from Vedomosti, but also the Friday, How to Spend, Real Estate. Residential Properities and The Walls of Business newspapers.
Users can download the supplement at iphone.vedomosti.ru.