Cosmo Magia: Ask Him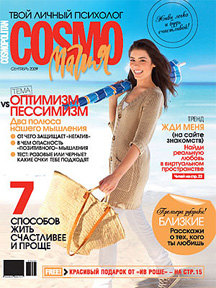 The magazine's readers have many questions: why man behave this or another way. Why doesn't he call? What did he want to say? How to understand his actions? Now they can receive answers from Artem Zhilin, a professional psychologist, certified Gestalt therapeutic and trauma therapeutic.
Artem is the author of educational psycological program "The Art of Being Free" and the lead of therapeutic and educational groups. He corrects psychological dependencies and co-depending relations, difficulties in relations building and self-diffidence, high uneasiness and fobias, life crises and losses, shock and other psychological traumas. He also consults on existential themes, such as solitude, death and meaning of life, freedom. The holds practice since 2003.
Besides answering questions, Artem will hold a psychologist's blog at Cosmo Magia web site.