The Moscow Times at Anthony Gormley's Exhibition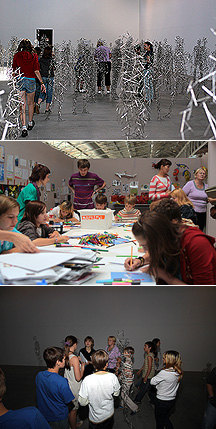 The Moscow Times newspaper has become the information partner for the installation "Domain Field" by British artist Anthony Gormley. The exhibition is being held in the Garage Center of Contemporary Culture from July 17th to September 2nd. The exhibited 287 sculptures are made from the body moulds of volunteers aged from 2 up to 82 years.
On August 4th and 6th, the Garage Center organized special excursions through Gormley's exhibition and master classes in children's studio for participants of "Create Yourself" charitable program by The Moscow Times. In spite of the difficult subject of the exhibition, the guide from the Garage Center Polina has easily managed to make the excursion interesting, exciting and accessible for every child. Later children moved into the bright, warm and creative atmosphere of the children's workshop, where they met young and talented teachers of arts. They tactfully supervised children to draw, made applications and paper models.