Men's Health Pro-Motion Campaign in Russian Cities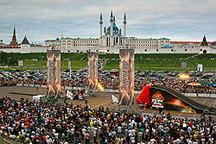 Men's Health magazine is taking part in the unique Adrenaline Rush FMX Masters Tournado show, a powerful moto-tornado running through mid-August. The event is the continuation of the Adrenaline Rush FMX Masters moto-freestyle show, which was held in Moscow in November 2008 to great success. That was when the 12 best riders in the world astounded 20,000 spectators with their prowess at the Olympisky Sports Complex in Moscow. And now the people of other Russian cities can also learn what it feels like to be at the center of a whirlwind of stunts, music and adrenaline.
The show kicked off in Nizhny Novgorod on July 29, moved to Kazan on August 1 hit Penza on August 5. The Saratov show is next on the list on August 8, Krasnodar follows on August 12 and the final show of the tour will be held in Sochi on August 15. In every city, the program includes the following:
Moto-freestyle - unbelievably dangerous and breathtaking mid-air motorcycle stunts, the best Italian and Russian riders performing unique moves from the cutting-edge of moto-aerobatics;
Stunt riding - groups of riders on motorcycles and quad-bikes performing difficult and complex maneuvers on the ground;
Drugly Cats - a concert performance by the most unconventional and energetic Moscow rock band;
After-party - a red-hot party in an outdoor square.
Spectators are not only viewers, but also full program participants in their own right. They can take a ride with the best stunt riders, win prizes, root for their favorite riders, and participate in the Men's Health Pro-Motion Campaign in Your City competition that was announced by the magazine.
Details on the Adrenaline Rush FMX Masters Tournado can be found at www.fmxmasters.ru.