National Geographic Traveler Invites Readers to Kubana Festival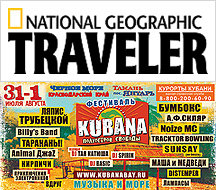 The first festival will be held at the Black Sea's wild beach of Kubana from July 31 to August 1. National Geographic Traveler magazine will act as informational partner to the event.
There are no comfortable hotels here, and the local vacation lodgings look more like the sort of huts you would find on the outskirts of Havana. The local dives have no air conditioners, and the personnel walk about in shorts. But only here can you find white sand, kilometers of empty, wild beaches, lagoons and a salt-water sea! This is where musicians gather to play for their fans and to just relax however they please. Performing at the Kubana festival will be Boombox, Lyapis Trubetskoy, Billy's Bank, Alexander F. Sklyar, Animal Jazz, Tarakany!, Noize MC, SunSay, Kirpichi and many others.
The organizers combined the start of the Kubana music season with the Taman wine holiday. On that day, winemakers place barrels of the noble drink in town and everyone is free to evaluate the quality of Taman's winemaking, free of cost.
Immediately following the Kubana festival, there will be a folk festival featuring the increasingly popular music of Dikaya Myata, a group that headlined in Moscow in 2008. Organizers will present listeners with the most interesting performers of the capital's folk music scene - in particular, Alevtina, the Severo-Vostok and Nachalo Veka groups, Anna Pingina and Mila Kikina.
During the first week of the season, in addition to the above-mentioned festivals, Kubana will host the Russian kite surfing championship, a tea festival, a special training session by the Russian Yoga Federation and a fire show. A bike festival will be the final event.