New Issue of Bacardi&Martini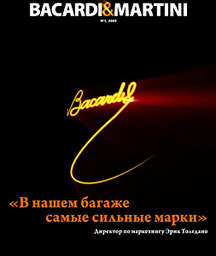 The Bacardi&Martini magazine has changed to a more progressive electronic format, switching from a lifestyle to a business-oriented content.
The new format retains all of the stylistic features of the print version: original covers – now animated, elegant design and striking content with exclusive interviews and photo shoots of the most dazzling events in the capital.
New, virtual sections have appeared in the magazine: an expanded photo gallery accompanying every article, video footage of interviews and events, master classes by leading Russian bartenders and a huge archive of exclusive Bacardi cocktails.
Now the magazine is accessible for all interested people at its official site, Bacardi Rus magazine.bmrussia.ru.