Vedomosti Conference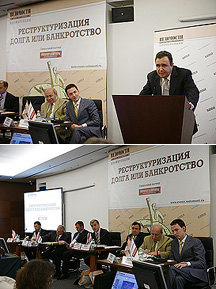 On June 23, Vedomosti and the Rappoport and Partners legal firm conducted a conference titled "Long-term Restructuring or Bankruptcy: Modern Methods, Means and Techniques for Protecting Debtors' Interests." More than 250 participants gathered for the event. Speakers included government officials as well as representatives of such companies as Renaissance Capital, Morgan Stanley, VTB Debt Center, Amtel Fredeshtain, the Bank of Moscow, Promsvyazbank and others.
In his talk, Renaissance Capital general director Ruben Aganbegyan focused on two dangerous trends. In place of "removing the tumor," he said officials have been in no hurry to resolve the problem of overdue debt in the hopes that it will resolve itself. At the same time, Aganbegyan said, even very creditworthy organizations are striving to restructure their debts simply because "everyone is doing it." Aganbegyan reminded listeners that companies who kept their accounts current following the default of 1998 had earned the most important capital of all - a good reputation that can help them in the present crisis.
The session's special expert, Deputy Finance Minister Sergei Storchak, lamented the absence of clear principles regulating private debts, in contrast to sovereign debts that must conform to the rules of the Paris Club of Creditors. He prompted a stir in the hall by admitting that it is easier to be, not a creditor, but a debtor, who can respond to the most difficult questions with one simple answer: "I have no money, and don't foresee having any." Storchak later clarified that statement, saying, "Of course, I mean a sovereign debtor."
VTB Debt Center board of directors member and VTB managing director for work with problem debts Denis Zemlyakov reminded participants that the true goal of restructuring is not to set the problem aside, but to gain time for solving it. Only in rare cases do borrowers offer firm evidence of their ability to cope with their financial difficulties - business contracts, financial guarantees and personal securities. When reporting to consultants on their fiscal condition, most companies try to play down the possibility of their future financial success, Zemlyakov said.
Arbitration manager Eduard Rebgun generated a great deal of interest when he defended the need for outside management, asserting that debtors should always remain under supervision and that bankruptcy and liquidation are very useful.
The conference closed with a discussion between Ernst & Young partner Igor Boldyrev, co-chairman of the Committee for State and Private Partnership and Investment Policy of the Russian Union of Industrialists and Entrepreneurs Igor Vdovin, department head for organizing bonded loans at Raiffeisen Bank Oleg Gordiyenko, Rosinter Restaurants legal department director Dmitry Timofeyev and financial director for the Technosil store chain Tatyana Shostik. The experts discussed ways to maintain a balance between the interests of creditors and business owners.