Men's Health and Surfing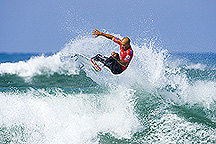 The second stage of the Surfing Championship of Russia will be held on Bali from July 3 to 14. Men's Health magazine will act as partner to the event.
Event guests will enjoy a program chock full of entertainment including popular Bali rock bands and Russian DJs. Surfers will compete for prize money totaling $3,000.
Summer on Bali is the season of big waves. That is when the world's surfing elite converges on the island and holds world-class competitions. This will be the first time Russian surfers compete on these world-famous waves. Long board and body board competitors will meet on the Kuta beach near the Endless Summer surfing school, and short boarders will gather at the Balangan reef renowned for its long and fast tubes. The competition is open to all comers, regardless of skill level. The surf school will also host beach volleyball contests and daily parties.
The Endless Summer Russian surfing school (www.surfbali.ru) and the Surfing Federation of Russia organized the second stage of the Championship of Russia. Quiksilver, Men's Health magazine, the Breakaway Point program of the Sport channel and the Accessible Extreme program of Maximum Radio acted as partners.