National Geographic Russia in July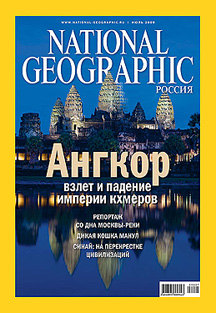 Angkor, capital of the Khmer state, is the lead story in the July issue of National Geographic Russia. The magazine reveals the riddles and mysteries of the ancient city in northern Cambodia, as well as the rise and fall of the Khmer empire.
Also in this issue:
The wild manul cat, a unique inhabitant of the Daursky Nature Reserve in the Zabaikalsky Region. Is the manul tame, or a beast of prey? Can we save these amazing wild cats from extinction?
The new generation of giant land and space telescopes opens truly fantastic opportunities for studying the heavens. It will soon be possible to know what dark matter and dark energy have been concealing, and to capture light that has been traveling toward us for more than 10 billion years.
The Sinai Peninsula has long been a cause of disagreement for Israel and Egypt, and even after the war ceased there, the spirit of confrontation remains. The Bedouin culture has collided with the civilization of Cairo with the result that the unique nomadic legacy is gradually disappearing beneath the foundations of Egyptian resorts.
In addition, this issue contains two pieces awarded the Best Edit accolade, meaning that they were among the best original pieces published among all the international editions of National Geographic, and were recommended for print in other countries.
The first is on the Moscow River. Who would guess that more than 30 species of fish inhabit its waters? However, pollution, silt and the city's growing demand for water could not but affect the array of species found in the river. What is happening to the capital city's main water artery today?
Striking photos from the land of praying mantises - the southern shore of the Crimea. Master of macro photography Nadezhda Muravyova captured the main events in the lives of these amazing and unusual insects.
A pleasant surprise is in store for readers, who can present their July issue of NG Russia and receive a 50 percent discount on admission to an exhibition dedicated to the legendary Ernesto Che Guevara titled "Che. Hasta siempre!" at the Dom Nashchokina Gallery.