Wedding: What to Give Newlyweds?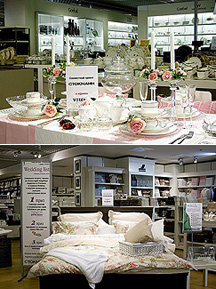 From the beginning of May, a campaign called "Wedding List" has been held throughout the chain of Stockmann stores.
Preparing for a wedding is a concern not only for the bride and groom, but for their guests as well. Which presents should they give the young couple? How can they make sure that there gift will truly be a pleasant surprise for the couple, and not spend the next few years gathering dust on a back shelf?
Wedding magazine decorators set up wedding gift tables in four Stockmann shopping centers that will give buyers an idea of how to make the right choice for wedding gifts.
By purchasing items marked "Wedding List," buyers' names will automatically be included in a lottery that gives them a chance to win one of three prizes offered by Wedding magazine - a gift certificate to the 7 Colors beauty salon, a three-month club pass to the Galla Dance studio or a gift certificate good for a bouquet from participating florists. The campaign is advertised in Stockmann catalogues and at the shopping centers' cash register check-out stands.