National Geographic Russia in May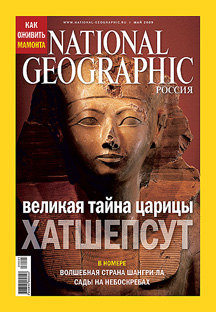 The latest issue of National Geographic Russia opens with an article about Hatshepsut – the female leader of ancient Egypt. The engaging story solves the mystery of why she is always depicted as a male, wearing a pharoah's headdress, a loincloth or a false beard.
Also in this issue:
Living rooftops. Megacities around the world look like lifeless stone jungles. But it appears that a solution has been found. Gardens have been transplanted to the rooftops of high-rise buildings. Experts belief this is beneficial not only for people, but also for the ecology of the city.
Lyuba, the baby mammoth. The magazine tells of the famous find on the Yamal peninsula that has intrigued scientists all over the world. The first complete sample of a mammal recovered from permafrost has been found. The initial results of the study have told scientists about the region's ancient flora. Now the reappearance of extinct prehistoric species is no longer a question of fantasy, but of time.
Shangri-La. The mythical country became a reality at a conservation area containing three great rivers and a holy mountain in western China. This story answers the question: Will it be possible to preserve its enchanting beauty?